Jobs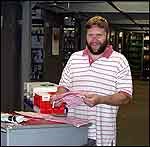 EPWI is always anxious to meet people who are interested in joining our team. If you are a positive individual who wants a job with the finest Engine Parts Warehouse in the country please contact the manager of the branch you are interested in.
Shipper/Packer, Denver
Duties include Checking, Packing and Shipping customer orders. Knowledge of UPS and Fed Ex manifest systems a big plus. Hours 8:30am to 6:00pm M-F
Please Contact gregw@epwi.net
Outside Sales, Southern California and Arazona
Large geography design requires both inside and outside sales skill set. You will travel one week and manage customers from office environment the following week. Visiting customer locations 2X/year requires 18-20 weeks of travel. Equally important will be 5-6 virtual visits per year, using available technology. Key attributes include developing dialog to identify opportunity, follow-through, and closing. Send resume to rogerb@epwi.net
All EPWI Locations, Customer Service Reps...
Currently EPWI has openings for qualified individuals to work as Customer Service Representatives (CSR) in our global phone room. Individual must live within close proximity to one of our twelve lower 48 warehouses. A well groomed individual, with good communication skills and computer familiarity would be a good fit. Engine machine shop experience is a plus, but engine parts knowledge is a must! The job consists of taking phone calls from our existing and potential customers, processing their orders through our computerized order entry system for shipment the same day and occasionally outsourcing from our vendors to arrange and accommodate special orders, all the while maintaining a high degree of accuracy and speed and customer friendly attitude. Send your resume to duanez@epwi.net
Crankshaft shop foreman/tech in Tualitin OR
Minimum Qualifications: Education: High school diploma or equivalent.
Experience: At least five years' experience operating related machine shop equipment with a demonstrated ability to proficiently operate machinery in order to meet production goals and deadlines. Must be able to identify a wide variety of crankshafts, read precision measuring instruments, read specifications from a manual, catalog or company documentation, and know how to solve common machining issues. Additionally must have a demeanor such that he/she gets along with people and can provide direction to all machinists in the designated shop.
Responsibilities include, but are not limited to:
Coordinating all steps in the process of a "core to finished goods" routine in the most efficient manner possible utilizing approved methods and equipment.
Supervise if not perform the inspection of cores to approve/disapprove core credit and whether to process for rebuilding
Oversee and conduct as necessary the processing of returned/replacement cores.
Maintain a comprehensive bank of cores in an effort to fulfill all requirements of the shop.
General Attributes of the Job:
Team leader
Team oriented
Excellent verbal and written communication skills
Positive personality
Strong customer service skills
Send resume to duanez@epwi.net